Salon Piper Glen Reopening Guidelines We are excited to announce that Salon Piper Glen will open on Saturday, May 23, 2020 with some restrictions of course...
How To Avoid Brassy Hair Color
Find out how to correct and avoid brassy hair color - advice from the experts at Salon Piper Glen in Charlotte, NC.
Important Notice: Coronavirus
Important Notice: Coronavirus In light of the recent and ongoing outbreak of the (COVID-19) Coronavirus, Salon Piper Glen has adopted a common sense approach to the situation...
The Piper Glen team takes some time out for a painting party. Check out our creativity!
Exciting New Hair Colors For Spring!
Freshen up your style this Spring with a hot new hair color courtesy of the experts at Salon Piper Glen in Charlotte, NC. Check out our blog for inspiration!
Take inspiration from Salon Piper Glen clients along with some A-Listers with these festive party hairstyles.
The Best Winter Hair Colors for 2019
The hair color specialists at Salon Piper Glen in Charlotte, NC, can find an on-trend hair color that will be perfect for you this winter!
The Best Red Hair Colors For Fall
Red hair is more than a color, it's an attitude! Find out more about the best red hair colors for you at Salon Piper Glen in Charlotte, NC!
Should I Highlight My Hair?
Do you want to lift your hair color in a subtle way? Highlights may be just what you need to pep up your hair at the top hair color salon in Charlotte, NC!
Hair Color Training at Salon Piper Glen
On August 26, we hosted Colornomics, a day-long professional hair color course with industry leaders Linda Macchi and Jerric Fruits.
Fancy Hairstyles for Fall
If you've got a wedding coming up or perhaps a homecoming celebration, try something different with your party hairstyle! Have fun and get fancy. Try an updo, a half upstyle, or even a formal style with hair extensions.
The amount of grey hair you have, how much you want to cover, and the shade of your grey hair will help decide the best way to color and style your hair.
Salon Piper Glen in Charlotte has the experience, talent and creativity to create stunning wedding and special occasion hairstyles to suit your dress and theme. 
Certified by Babe Hair Extensions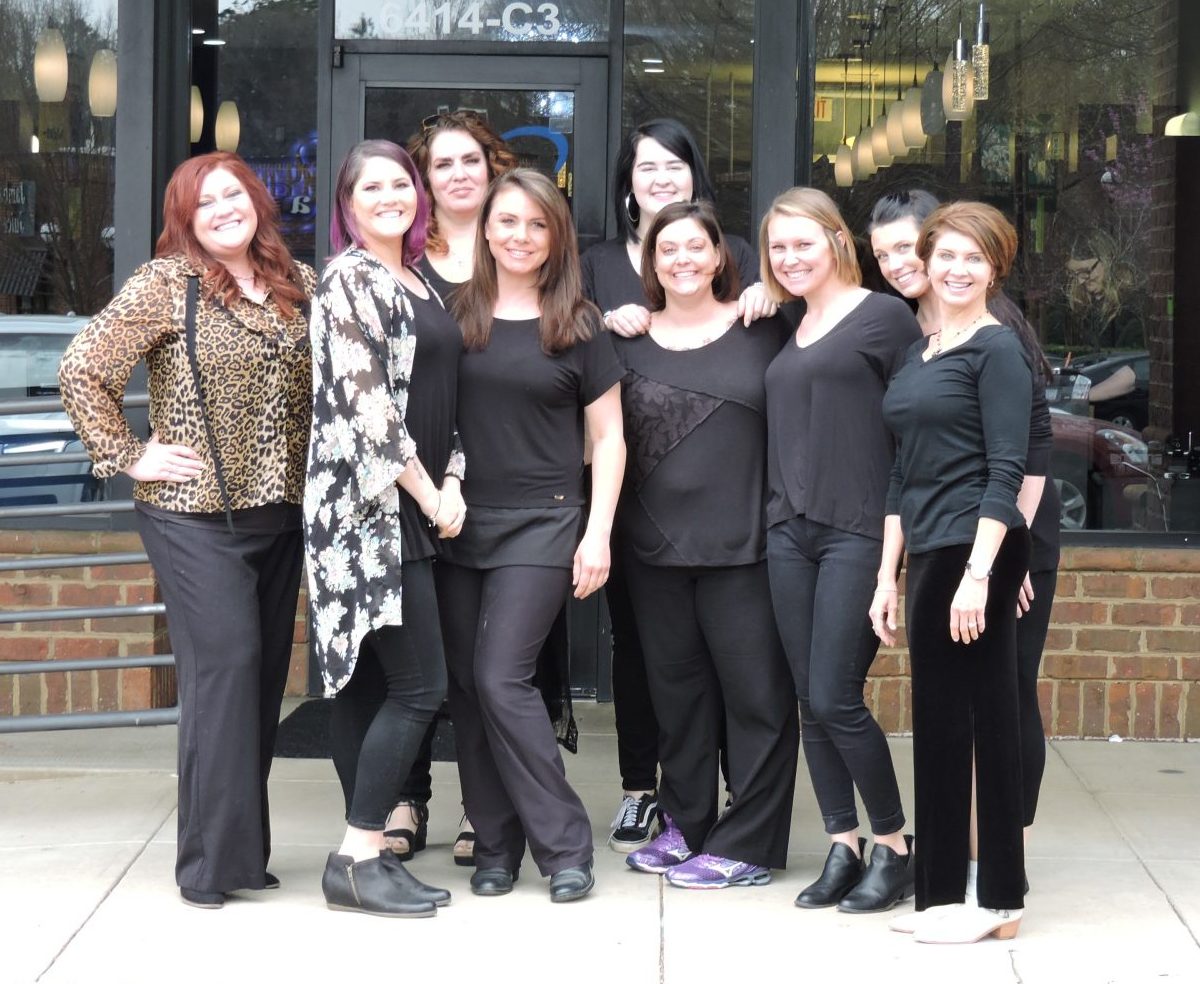 We are now a Babe Hair Extensions certified salon, one of few salons in Charlotte area. Our team spent many hours in training with a representative from Babe Hair Extensions who ran a master class on the proper application, styling and removal of Babe Hair Extensions. 
Salon News, Beauty Tips, & The Latest Hairstyle Trends
[getCatList slug="trends" layout="5"]
The Redken hair color experts at Salon Piper Glen are ready to help you find a new hair color. Here are just a few looks that our clients are curious about this Spring, like Unicorn Hair.
Special offers on Redken and Pureology retail products. Click for details!
Babe Hair Extensions have arrived at Salon Piper Glen in Charlotte...
Please arrive 10 minutes prior to your appointment...
Hairstyles by Salon Piper Glen in Charlotte NC Blonde Hair Ideas Balayage & Ombre Hair Inspiration The Best Shades of Red Hair Highlights and Balayage Ideas for Brunette Hair Vibrant Fantasy Hair Color Ideas
Hair Salon Prices for Salon Piper Glen, Redken Elite Salon Charlotte Haircut & Hair Styling Women's Shampoo/Haircut & Style Starting at $57 Women's Shampoo/Style Starting at $43 Wedding Hairstyle or Bridal Updo, Formal Hair Design Starting at $88 Men's Haircut Starting at $43 Children's Haircut Ages 10 and under starting at $43 Hair Color Services We guarantee our color services when at-home care is followed as directed by your stylist...